Vehicle Comparison: Mazda CX-30 vs Subaru Crosstrek
2020 Mazda CX-30 vs. 2020 Subaru Crosstrek
Primed for performance and adventure, the new 2020 Mazda CX-30 is a bold and innovative newcomer for the American market.
But, being a new vehicle to the market, it's easy for people to be skeptical about it and how it measures up to the top competition in its class.
Comparable to the Subaru Crosstrek — a crossover SUV with standard all-wheel drive, efficient highway MPG, and more interior volume than Hyundai, Nissan, and Toyota — the CX-30 has more to offer drivers — from the inside-out — and it's not hard to notice.
Overall Vehicle Comparison Overview
At first glance, the two models look quite similar.
But, that's where the similarities end.
While searching for a new crossover SUV, take a deeper look at important aspects like horsepower, technology, and safety features.
Of course, appearance is and always will be important when it comes to the vehicle a person uses nearly every day.
But there is so much more to involve in the final decision of buying or leasing a new vehicle.
And consumers have plenty of great options available when it comes to SUVs, especially with these two specific models. From the CX-30 Premium with the driver assistance i-Activesense® suite and the Crosstrek Limited with Eyesight® Driver Assist Technology, both vehicles have their drivers' safety in mind.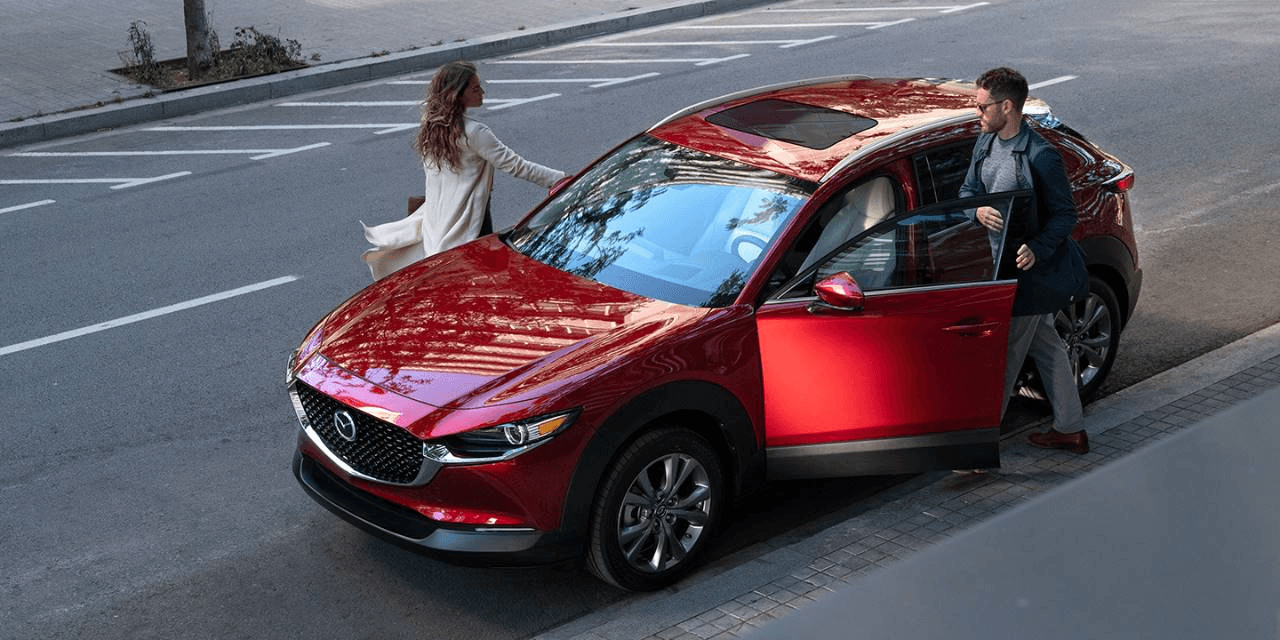 To help make your decision between the models easier, we've gathered the most important details to give you an in-depth look at the Subaru Crosstrek and Mazda CX-30.
Crossover SUV Interior Comparison
Offering more rear headroom and a larger infotainment screen, the 2020 Mazda CX-30 is ready for a trip with friends and family, or even an adventure of your own.
Inside the new Mazda crossover SUV, drivers will not only enjoy the 8.8-inch infotainment display, but also the full-color head-up display. Staying connected to the road ahead and important information has never been easier.
The world is at your fingertips, quite literally.
Easily maneuver the infotainment center with the multifunction commander control. Playlists, contacts, Apple CarPlay™ and Android Auto™ are all easily accessible through the Mazda Connect™ Infotainment System.
The windshield-projected full-color Active Driving Display allows drivers to stay focused on the road while accessing vital information and vehicle data without averting their eyes.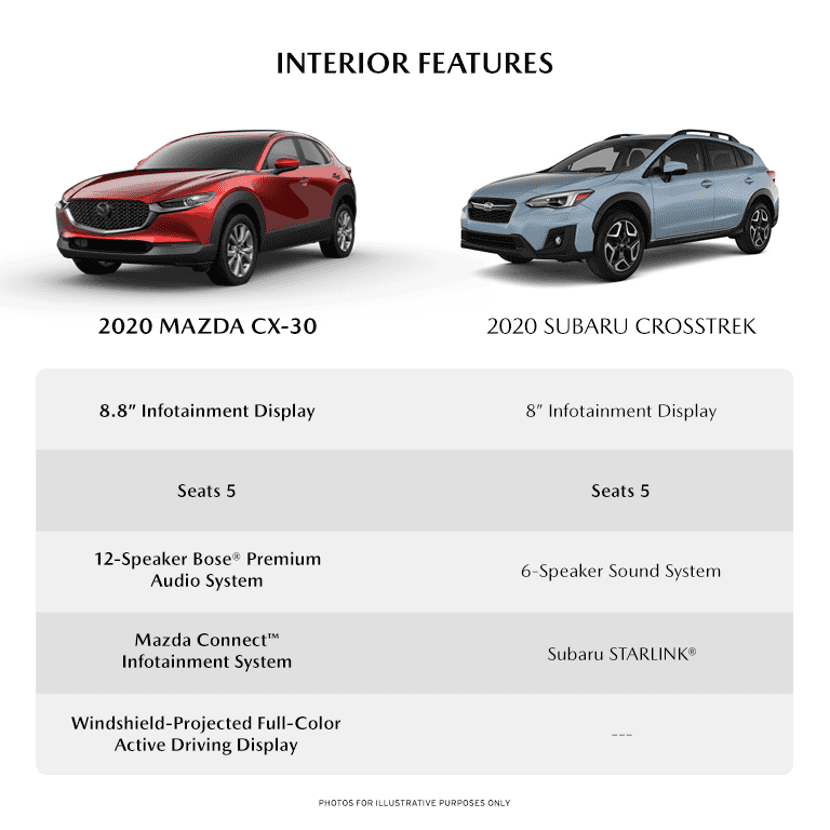 With seating for five, the CX-30 crossover SUV offers plenty of space for the driver and passengers without feeling crowded. The rear seats offer a 60/40 split option that can increase the cargo space to 45.2 cubic feet.
Also included in the CX-30 Premium is an adaptive front-lighting system, driver attention alert, second-row vents, and a 12-speaker Bose® premium audio system.
The Subaru Crosstrek isn't without its perks, but it doesn't quite measure up against the competition.
With its drivers typically ready for most adventures, they'll find a multitude of features inside the crossover SUV from Subaru.
Included in the Crosstrek Limited is an 8-inch infotainment display, 6-speaker sound system, and STARLINK® Safety and Security multimedia.
Drivers have access to emergency services and convenience services in STARLINK® Safety and Security multimedia. Features such as Automatic Collision Notification, Stolen Vehicle Recovery, Vehicle Diagnostic are at the driver's fingertips.
Also offering seating for five, the Crosstrek offers enough space for the driver and passengers whether it's for soccer practice or heading to the Adirondacks.
The fold-flat rear seats increase the cargo space to 55.3 cubic feet, making loading and unloading a breeze.
Vehicle Safety Comparison
The CX-30 is chock-full of important driver-assist and safety features.
It starts with Mazda's i-Activesense suite of advanced driver assistance features including Blind Spot Monitoring, Rear Cross-Traffic Alert, Smart City Brake Support, and much more.
Smart City Brake Support helps drivers avoid frontal collisions while driving at slow speeds whether it's in a city setting or congested traffic. This certainly can ease the stress of driving in rush hour traffic to and from work.
The body of the vehicle also delivers the perfect balance between collision safety, performance, and quietness. This was achieved by creating a body that is composed of a stronger and more tensile steel, while still remaining lightweight.
The Subaru Crosstrek is similarly equipped with available Blind-Spot Monitoring and Lane Departure Warning system but cannot match Mazda's Smart City Brake Support.
The vehicle does benefit, however, from Reverse Automatic Braking. The safety feature was introduced in the Crosstrek as a means of stopping the vehicle if an object crosses the path behind it.
Vehicle Performance Comparison
Offering responsive handling and smooth acceleration, the CX-30 offers the horsepower and torque adventure seekers desire while spending less time at the gas pump.
The newcomer to the Mazda lineup offers 186 horsepower and 186-pounds of torque at 4,000 rpm.
This power doesn't mean filling the gas tank more frequently, either. Stay on the road longer with an EPA-estimated 32 miles per gallon on the highway and 25 mpg in the city.
The Crosstrek offers impressive EPA-estimated 33 miles per gallon on the highway and 27 mpg in the city, which certainly means less time at the pump.
However, the horsepower and torque are not as impressive as its competition.
Drivers will experience 152 horsepower and 145-pounds of torque at 4,000 rpm. So, the crossover SUV is still up for the adventure ahead, but the drive won't be as quick or smooth.
Test Drive a New Mazda
Finding a new vehicle isn't always as cut and dry as it seems.
But, as the Crosstrek and CX-30 comparison has shown, the all-new crossover SUV from Mazda is worth more than a test drive.
Visit our showroom today on 799 Central Avenue in Albany, New York, or schedule a test drive to experience the Mazda CX-30 in its entirety.