The Mazda MX-5 Miata: A Great Sports Car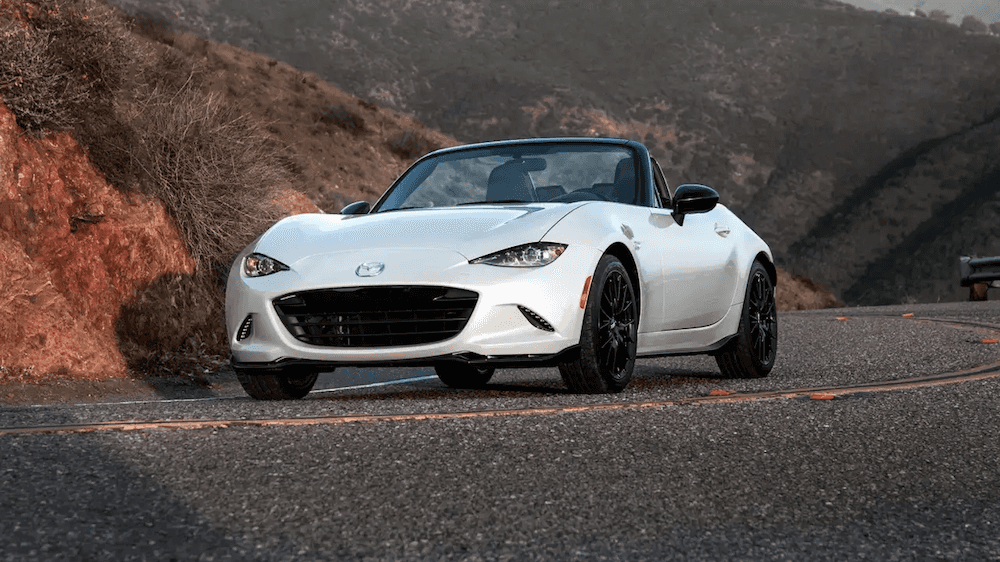 That's right. I repeat…the Mazda MX-5 Miata is no joke.
Consider this a valuable lesson that was learned while visiting a Mazda dealer in Albany. Some of us may recall a point in the 90s when the Miata had gone from being the dream car of every pre-licensed teenage girl to the seasonal daily driver of the mid-life crisis male. Despite the fact that the Miata has always been a well-designed convertible roadster worthy of Mazda's reputation of reliability, it always felt as though it was designed for niche buyers. As such, it had earned a bit of a stigma in the eyes of many (myself included).
In 2016, the Miata received a transfusion of both style and performance when it received a full design. With that in mind, few changes were made to this year's MX-5. Then again, the redesign was so strong that none were required; the Miata had been resurrected as a well-performing, tech-savvy ride that's as good as advertised.
Speaking superficially, it's a damn good looking car. Maintaining the same sporty feel of a first-generation Miata, today's MX-5 uses sleek countering to enhance the overall body design. As expected it sits low, yet slightly-wide, considering its compact design. Faithful, yet updated, it is certainly eye-catching (whether or not you're into lightweight roadsters).
Powered by a 2.0-liter four-cylinder engine, the Miata delivers 155 horsepower and 148 lb-ft of torque. Drivers have the option of either an automatic of manual transmission which helps to encourage both the accessibility of the vehicle, as well as the sportiness expected. Keep in mind that you're not scoring the type of acceleration you'd see from a muscled V8, but a 6.3 second run to 60 mph is quick enough, and enjoyable enough, for most.
Power aside, the MX-5 certainly handles well, whether you're cruising on the highway or commuting in start and stop traffic. The petite body design only serves to enhance the sporty feel, as does the fact that it steers with precision and refinement. It also enhances any perception of a union between car and driver. As a two-seater, an intimate design is expected. If you're shopping Miatas when you need an SUV that seats a family of five, your priorities are pretty far out of whack.
So, what are your options?
The MX-5 is available in three different trim levels.
The base-level Sport comes with few frills, outside the cache of it "looking good." The types of amenities that you'd expect to come standard (power accessories, 6-speaker CD stereo with USB port, and auxiliary audio jack) are there. In addition, you do get Bluetooth phone and audio connectivity, as well as the "sporty feel" that tends to accompany a push-button ignition. The defining feature: a black soft-top with glass rear-window. Keep in mind that this is a manually-retractable soft-top.
Step up to the Club trim, and score a nine-speaker Bose audio system which includes satellite and HD radio. The inclusion of a 7-inch touchscreen, voice controls, and refined interior make the benefits of the jump feel tangible to driver and passenger, while on-lookers might appreciate some of the cosmetic upgrades. The jump from 16" to 17" wheels, sporty front fascia, and a rear spoiler give the Club an athletic feel. You also score some purposeful enhancements, if you opt for the manual transmission. From a sport-tuned suspension to a limited slip-differential with engine sound enhancer, it helps to create an engaged driver experience.
When it comes to the Grand Touring, the enhancements are limited. Adaptive headlights and auto-dimming mirrors are paired with a navigation system to provide driver assistance. Interior amenities focus on heated, leather seating and climate control. Overall, not a lot of bang for the buck on the upgrade – but enough to enhance the MX-5 Miata's general vibe.
As with passenger space, storage space is limited. Then again, remember the vehicle we're talking about. It makes no effort to appear to be anything other than what it is; so if you complain about overall space, you might want to look in another place.
If you really want to maximize your MX-5 experience, the RF ("Retractable Fastback") model is where you should be looking. Feeling almost like a hybrid of Mazda and Porsche, the modified roadster has a more enclosed feel, but you get the benefit of a power-retractable hardtop versus the manually retractable version of the standard MX-5. But full disclosure, there are few performance enhancements with this step up. Ultimately, it's simply a refinement to the cosmetics of the Miata – but, as enhancements go, they are certainly worth noting.
Averaging 34 mpg (highway, 27 city) the Miata certainly delivers the type of mileage you'd expect from a vehicle in its class, and of its stature. Whether or not this rear-wheel drive Mazda is right for you is very much a personal choice. While it may not be my personal cup of tea, I have to give credit where it's due. Perhaps that's an even stronger endorsement though. As someone who had, in the past, spoken of the Miata with equal parts contempt and sarcasm, I have to admit it. Since 2016, the Mazda MX-5 is exactly how you go about re-envisioning a vehicle, evolving it for wider appeal.
So, that's it. While the MX-5 may certainly be desirable to the Miata's historic demographic, it now has every reason to appeal to a much more extensive buyer segment. In addition to being a fun seasonal ride that's easy to drive, it is reasonably priced and very easy on the eyes. If you're in the area and want to check it out for yourself, come visit DePaula Mazda, your Mazda dealer in Albany. Come expecting a great update to the Miata, and you won't be disappointed. It's no joke.