The Amazing 2018 Mazda6 Sports Sedan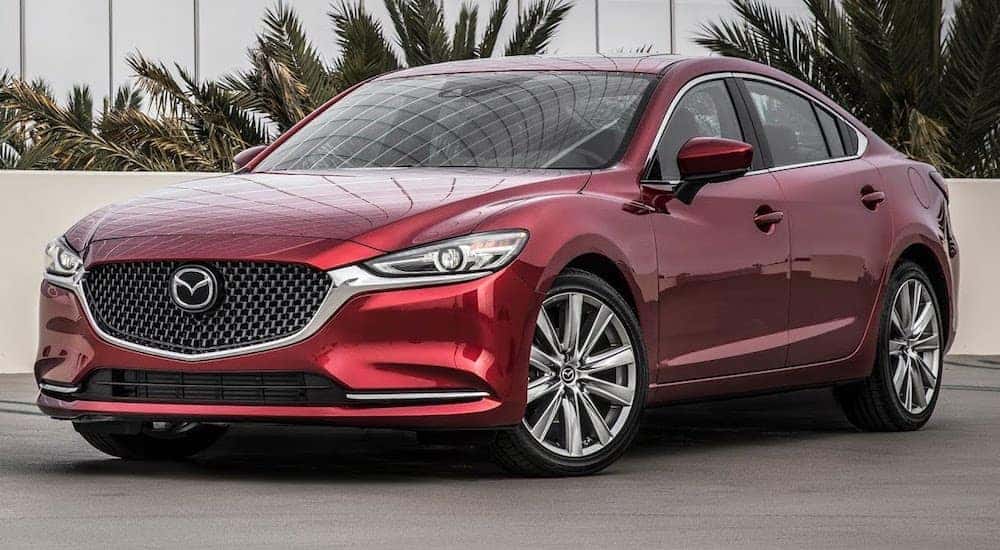 When you start browsing Mazda cars for sale, you'll quickly realize that there's no wrong choice when it comes time to make your final decision on which model you want to proudly park in your driveway. The entire Mazda-model family is renowned for offering drivers high-quality interiors, impeccable performances, and stylish exteriors, which means any Mazda you choose to bring home is a winner. However, before you decide to go with the first Mazda you see on the lot, take a minute to familiarize yourself with the recently updated 2018 Mazda6. Sleek on the outside and comfortable on the inside, the 2018 Mazda6 has been named one of the year's Best Midsized Sedans by Edmunds – and it's easy to see why. Read on to find out why the 2018 Mazda6 is the car you should be driving home in today.
Perfect Performance
With plenty of power to make for a speedy commute to the office or a quick run to the grocery store, the 2018 Mazda6 offers performance that can get you where you need to go with no hesitation. The 2018 Mazda6 comes standard with a 2.5-liter four-cylinder engine coupled with a six-speed manual transmission that gets 187 horsepower and 186 pound-feet of torque. Of course, a six-speed automatic transmission is available as well, as is a more powerful turbocharged 2.5-liter four-cylinder engine (coupled with the aforementioned six-speed automatic) that gets 250 horsepower and 310 pound-feet of torque, for those of you who want to stay ahead of the pack. Additionally, with an EPA estimated 23 miles to the gallon in the city and 31 mpg on the highway, you won't need to worry about making frequent fuel stops – a good thing given that once you take a seat inside the 2018 Mazda6, you won't want to be getting up any time soon.
Elite Interiors
The 2018 Mazda6 seats five passengers extremely comfortably, and thanks to a reworked and redesigned noise-canceling interior cabin, the ride is quieter than ever before – a big win for Mazda, which has in the past faced criticism for being too loud for passengers. A newly redesigned streamlined dashboard and enhanced cabin materials coupled with your choice of one of five trim levels make the 2018 Mazda6 one of the most luxurious rides in the midsize car class.
Terrific Trims
If you are the type of person who believes that variety is the spice of life, you'll undoubtedly appreciate your choices when it comes to the interior of 2018 Mazda6. With five trims to choose from, your toughest decision won't be which model Mazda to buy, but which trim level to buy it in!
It always makes sense to start at the beginning, which, for the 2018 Mazda6, is the Sport trim. Of course, given Mazda's commitment to offering high-quality amenities at a reasonable price point, it's no surprise that the base-model Sport provides a plethora of features, such as a leather-wrapped steering wheel, a USB port, Bluetooth connectivity, a rearview camera, a push-button start, LED headlights, a six-speaker audio system, and an 8-inch touchscreen display. The Sport also includes advanced safety features such as rear cross traffic alert, a rearview backup camera and blind spot monitoring. With a starting price of just $21,950, it makes sense to consider sticking with the 2018 Mazda6 Sport, especially if you don't spend much time actually in your car but just need a well-designed and high-quality vehicle car to have on hand for quick trips around town.
However, if you have a long commute or are a frequently take road trips, we'd suggest continuing to climb up the trim ladder. With a starting price of $25,700, the 2018 Mazda6 in Touring trim offers even better amenities and features than the Sport, but without breaking the bank. The Touring trim will equip your 2018 Mazda6 with heated front seats, faux leather upholstery, automatic high beams, keyless entry, illuminated vanity mirrors, and – best of all, a sunroof. Backseat passengers will love having additional center-console ventilation on hot summer days, and they will especially appreciate the center armrest that comes equipped with two USB ports. Also notable is that the Touring comes with i-Activsense, which is an advanced safety option only available as a package on the Sport. iActivsense includes adaptive cruise control, lane-keep assist, automatic emergency braking and lane departure warning, so it is certainly worth it to either opt for the package deal on the Sport or spend a few thousand dollars more and upgrade to the Touring trim.
The Grand Touring trim is where the more powerful engine comes into play. Equipping your 2018 Mazda6 with the 250-hp, 2.5-liter engine, the Grand Touring is for those who require a vehicle with a little extra pep. Of course, there's more to the Grand Touring than just the upgraded engine – there's also sweet features included like navigation and an eleven-speaker sound system – all for the starting price of $29,200.
Cruising towards the top of the trim options brings us to the Grand Touring Reserve, which is where things start to get pretty fancy. Starting at $31,700, the 2018 Mazda6 Grand Touring Reserve offers leather seating for the entire cabin, a heated steering wheel, a head-up display, and adaptive lighting. It's easy to tell the Grand Touring Reserve trim apart from the other trims simply by looking at the exterior of the vehicle, as the Grand Touring Reserve includes a rear spoiler.
Sitting at the top of the trim lineup and offering the most luxurious driver (and passenger) experience is the 2018 Mazda6 Signature model, which is what you'll want to buy if you'd prefer your car's cabin be outfitted in materials such as upgraded leather, wood accents and supple suede. There are also rear parking sensors in addition to a 360-surround view camera – not to mention all of the very best features of the other trims. Starting at $34,750, the 2018 Mazda6 Signature rivals the luxury car class offerings, without offering the same sticker shock.
Bring Home the 2018 Mazda6 Today
Despite stiff competition, even from within its own Mazda family, the 2018 Mazda6 simply astounds with its ability to perform while offering a luxury-level ride at an affordable price point. While it's true you cannot go wrong with any member of the Mazda family, the newly upgraded 2018 Mazda6 is truly setting a new standard for high-quality, well-appointed vehicles. Don't take our word for it though – go ahead and check out the 2018 Mazda6 today… just don't be surprised when you find it sitting in your driveway tomorrow!