Crossover SUV Comparison: 2020 Mazda CX-30 vs. 2020 Honda HR-V
Comfort, reliability, and performance are a must-have for drivers looking for today's crossover SUV.
Shopping for a new vehicle and determining the best option can feel overwhelming. Knowing you want a smaller SUV is more than half the battle.
You can simplify it even more.
Eliminate the stress of deciding if the 2020 Mazda CX-30 is the model for you. Compare the 2020 Honda HR-V and decide for yourself.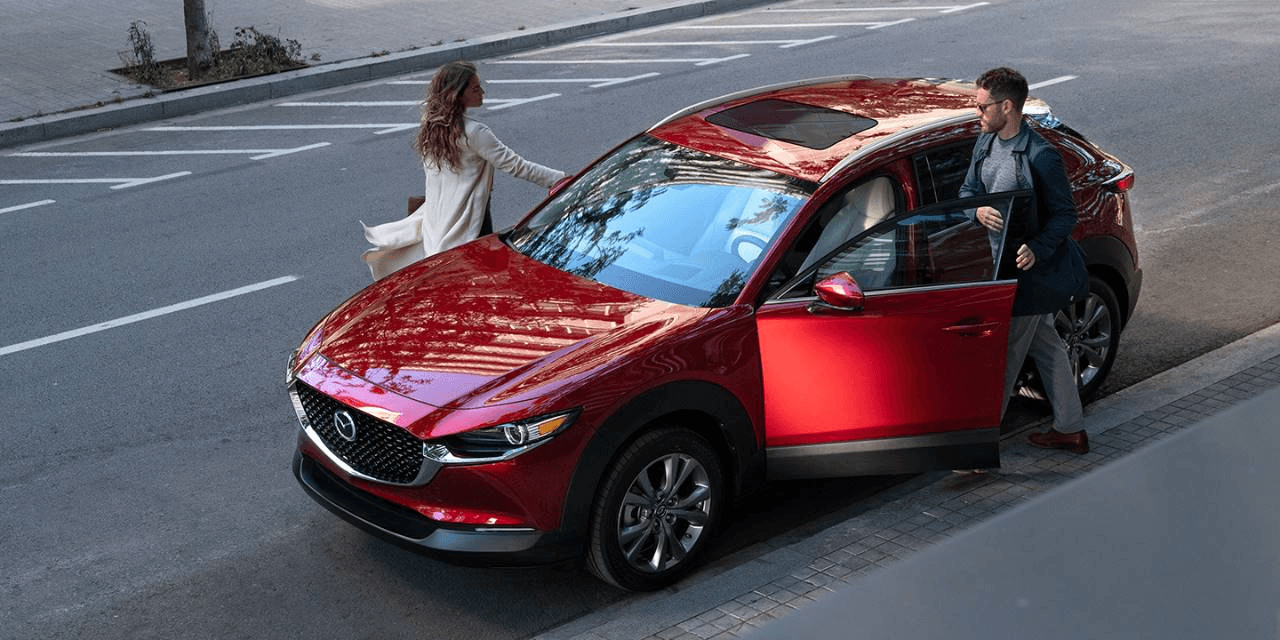 The first generation of the HR-V became available for the American market in 2016. The CX-30 is a newcomer for the 2020 model year, and it's true that good things come to those that wait. But being new doesn't mean Mazda is at a disadvantage in this model comparison.
Interior Features Comparison
No matter how much time you spend in your vehicle, it should be comfortable, and it should offer the conveniences many of us desire.
Precision handling and modern design doesn't mean comfort or features takes a back seat in the new crossover SUV from Mazda.
Standard equipment and amenities in the CX-30 Premium include full-color heads-up display, 12-speaker Bose® premium audio system, an 8.8-inch infotainment display, second-row vents, and Mazda Connect services.
Mazda Connect services combine information like navigation and fuel usage with mobile apps through Apple CarPlay or Android Auto.
Even though the infotainment center is not a touchscreen, it does respond to a voice command in addition to the central rotary knob.
The full-color heads-up display is an ideal way for drivers to stay focused on the road while also being mindful of speed and turn-by-turn directions.
The comfort for the driver and front passenger were also taken into consideration. The 2020 Mazda CX-30 front seats offer 54.6-inches of hip room, ensuring maximum comfort on even the longest drive.
The 2020 Honda HR-V Touring isn't without its comfort and conveniences, but it isn't as bountiful as the CX-30.
Inside, drivers will find a 7-inch infotainment center with touchscreen capabilities, Apple CarPlay connectivity, steering wheel-mounted paddle shifters, and center console illumination.
Those features certainly add to a spirited drive, but the perks fall short compared to what Mazda has to offer drivers.
Even the comfort of the front seats falls short. The HR-V offers 53.1-inches of hip room. At face value, it doesn't seem like a major difference. But it could be for those who spend a lot of time on the road.
Safety Features Comparison
Safety features are one area of any vehicle that drivers should never compromise on when it comes down to which model they choose.
And there's more to it than an anti-lock brake system and airbag locations.
The Mazda CX-30 Premium includes the i-Activesense® suite of driver assistance and safety features.
These features include blind-spot monitoring, rear cross-traffic alert, High Beam Control, driver attention alert, smart brake support, and Mazda Radar Cruise Control.
With Mazda Radar Cruise Control, drivers can set the maximum driving speed which will automatically adjust to the flow of traffic. It also maintains a safe distance between the car ahead.
This safety technology can significantly reduce the stress of driving whether it's long-distance or in commuter traffic.
High Beam Control (HBC) detects oncoming and preceding vehicles and will automatically switch from high to low beams during night driving. This can give drivers peace of mind, especially during situations when they prefer having both hands on the wheel.
Not without its own bevy of safety features, the HR-V Touring still falls a little short in comparison.
Included in the Honda Sensing Safety and Driver Assisted Technologies is adaptive cruise control, lane keep assist, lane departure warning, Collision Mitigation Braking System™, and auto high-beam headlights.
The Collision Mitigation Braking System™ (CMBC) was designed to alert drivers when there is potential for a frontal collision. If one is imminent, the system will apply the brakes to mitigate the severity of an impact.
Performance Comparison
The Mazda CX-30 effortlessly blends responsive handling, smooth acceleration, and horsepower to provide drivers with an unforgettable experience.
Combining 186 horsepower with 186 pounds-per-feet of torque and 4,000 rpm it will be easy to enjoy the time spent on the road — every time.
It should be noted, the rousing horsepower doesn't mean more time at the pump.
Drivers will benefit from an EPA-estimated from 32 miles per gallon on the highway and an estimated 25 mpg in the city.
Unfortunately for Honda, the HR-V falls short in this category as well.
The acceleration is not quite as smooth and can feel sluggish. The 2020 HR-V offers 141 horsepower and 127 pounds-per-feet of torque.
This isn't quite enough to make the drive feel exhilarating.
The EPA-estimated fuel consumption is comparable, however. Drivers can expect an estimated 31 miles per gallon on the highway and 26 mpg in the city.
But is that enough to make up for what it lacks in performance?
Test Drive a New Mazda
This CX-30 comparison has certainly been informative. And even though the HR-V has been on the American market longer, it can't seem to withstand what Mazda can offer.
Browse our Mazda CX-30 inventory, visit our showroom on 799 Central Avenue in Albany, New York, or schedule a test drive to experience the Mazda CX-30 in its entirety.
Our staff is ready to answer any questions you might have and help you get behind the wheel of a vehicle that's perfect for you.