2020 Mazda MX-5 Roadster
A Thrilling & Exhilarating Drive from a Sports Car that Commands the Road
Like other models in the Mazda lineup, the Mazda MX-5 has seen significant updates since its inception.
Drivers searching for a new 2020 Mazda MX-5 can expect the same level of excitement and expertise as the previous model years — but with a more powerful engine.
Despite its small stature, the 2020 Mazda MX-5 is stylish, filled with technology, and quite exhilarating to drive.
The creators at Mazda believe a car should stir the emotions, and the Mazda MX-5 does just that.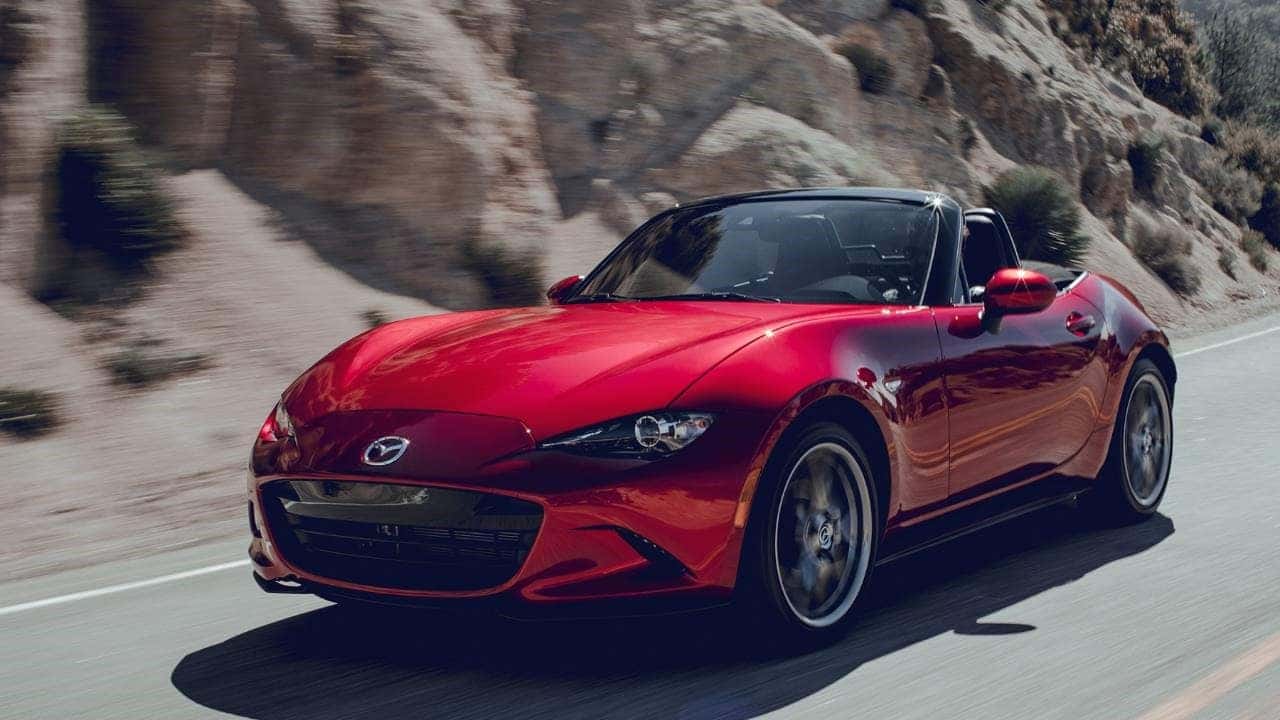 2020 Mazda MX-5 Interior
Sleek lines captivate the cloth-lined soft top of the new Mazda MX-5 convertible. Whether you choose the classic black-top or the new brown top, the classic-inspired roadster will fit your style at every angle.
The two-seat sports car comes standard with cloth seats, but drivers who desire a bit more will enjoy the Nappa leather upholstery, Recaro sport seats, and heated seat options.
The 2020 Mazda MX-5 comes with a 7-inch infotainment screen in addition to a six-speaker audio system. Drivers can control the infotainment center with ease with the Multi-Function Commander Control, voice command, or touchscreen capabilities.
If the weather changes, or if the mood strikes, the soft top can be unlocked and dropped with ease all from the driver's seat using a single hand.
Should the weather shift, the assist spring mechanism makes closing the top just as easy.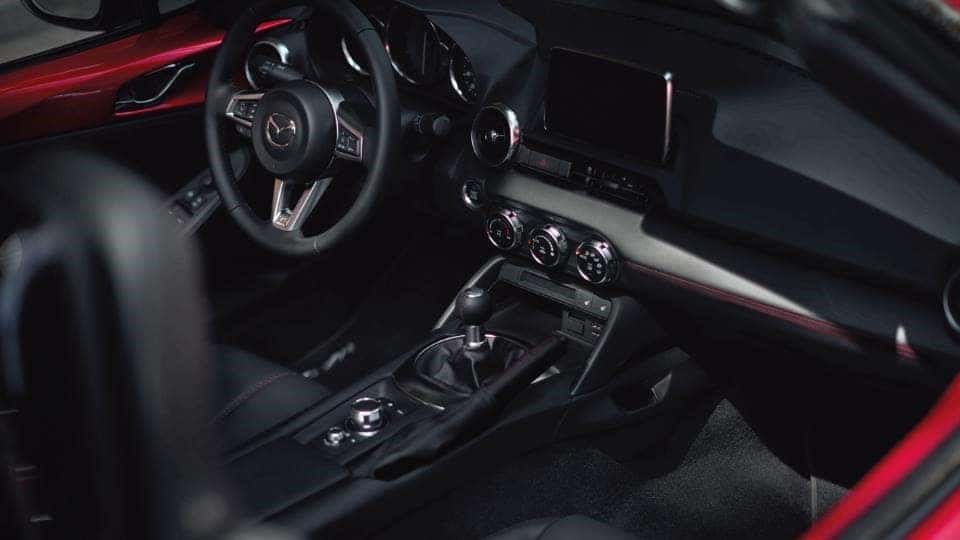 Even with the top up, the 2020 Mazda MX-5 is sleek, sophisticated, and head-turning. But, it's so much more fun to drive with the top down!
The rearview camera makes backing in and out of tight areas simple. The addition of a telescoping steering column helps drivers sit a comfortable distance from the steering wheel.
2020 Mazda MX-5 Performance
Nimbleness and stability come together perfectly with precision and power in the 2020 sports car.
The new Mazda MX-5 offers a significant increase in performance compared to previous model years.
The incredibly lightweight, yet durable, SKYACTIV® chassis is able to easily resist torsion during quick turns. This ability helps the Mazda MX-5 sustain itself in the sports car class.
Offering 181 horsepower (compared to 155 previously) and an increase in the RPM redline to an astonishing 7,500 RPM – each drive will enthrall the senses.
Available in a 6-speed manual transmission or 6-speed automatic with steering-wheel-mounted paddle shifters, there's an option for every driver.
Find the 2020 Mazda MX-5 for You
Whether you're ready to schedule a test drive, have questions about the new Mazda MX-5, or you'd like to learn about our financing options — our staff is ready to help!
Visit our showroom at 799 Central Avenue, Albany, New York to find the Mazda MX-5 that's perfect for you.