Choose The 2017 Mazda3: A Family Car All About Safety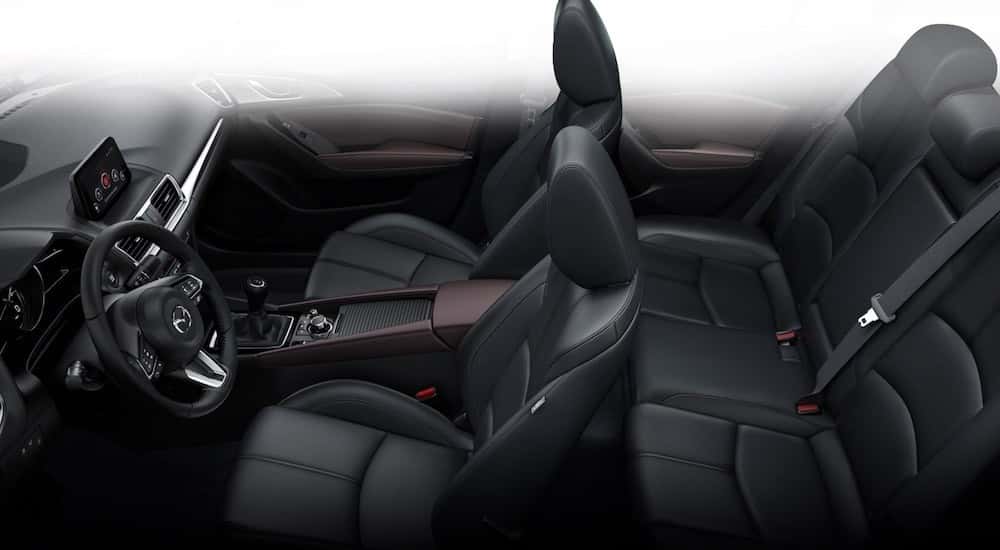 There's a new school year rapidly approaching and that means it's time to take stock of all your back to school gear: backpacks: check, notebooks: check, new car: whoa, wait a minute?
Well, why not? After all, you work hard all year shuffling your kids between school, baseball practice, gymnastics class – and that's not mention trying to fit in your own work, workouts, and hobbies. You need a car that can you get everyone everywhere they need to be without worrying about cramped cargo space or sub par safety – and you also deserve to drive a car that's loaded with nice amenities so that carting kids from one place to another is actually enjoyable. Smart moms know that when it's time to buy a new car, the only brand to shop is Mazda – and this year, you're going want to shop the 2017 Mazda 3.
The Smartest Reason to Buy the 2017 Mazda 3? Safety
What makes the 2017 Mazda 3 so special? Well, let's start with the first thing that all mom's worry about – safety. You can rest assured that when you pop your most precious cargo into the backseat of the 2017 Mazda 3, you're putting them in one of the safest cars on the road – no matter if you opt for the 2017 Mazda 3 in sedan or hatchback form. In fact, the 2017 Mazda 3 is such a safe car that the Insurance Institute for Highway Safety named it a Top Safety Pick+ – the highest designation possible. The National Highway Traffic Safety Administration also stands behind the 2017 Mazda 3, giving it a five-star overall safety rating. So now that you know you've done your due diligence and picked a super-safe car for your family, let's check out the fun stuff.
Interiors Fit for a Queen (and the rest of her kingdom)
The 2017 Mazda 3 fits five passengers extremely comfortably and the cabin is designed and styled so nicely and with such quality materials that you'll be shocked when you learn how affordable it is (we'll keep you in suspense for a bit). There's even room for two car seats using the LATCH system.
We all know that once you have kids, the days of running out of the house with just your wallet and car keys are long gone. Thanks to the 12.4 cubic feet of trunk space in the 2017 Mazda 3 sedan, at least you won't have to worry about where to put all your extra stuff. However, if you're in charge of bringing the soccer balls, the Gatorade and the orange slices to soccer practice, you might want to consider going with the 2017 Mazda 3 hatchback – you'll get 20.2 cubic feet of space and have the ability to collapse the rear seats and expand your cargo hold to 47.1 cubic feet… and that's more than enough room to get a dozen pairs of stinky cleats in the car.
No matter if you're dropping your baby off to the first day of daycare or taking your college freshman to their new campus, the 2017 Mazda 3 will make your journey that much easier (although we still recommend you bring the tissues).
Three (well, technically four) Trims to Tickle Your Fancy
The 2017 Mazda 3 technically comes in four trims, although one (the Touring 2.5) is only available if you opt for the hatchback model. The other trims are the base model Sport, the Touring, and the Grand Touring. Now, of course, the easiest thing to do is just buy the most expensive trim and call it a day, but we all know that college is just around the corner and those overpriced textbooks aren't going to pay for themselves.
Luckily, you won't be disappointed if you make the fiscally-responsible choice and opt for the Sport trim. It comes standard with a whole bunch of goodies that you won't find in most other base models such as two USB ports, a seven-inch touch screen display, a rearview camera, a push-button start, HD Radio, Bluetooth phone and audio connectivity and the Mazda Connect infotainment system – which is voice controlled so that you can keep your hands on the wheel while changing stations. The 2017 Mazda 3 Sport sedan has a starting MSRP of $17,845 while the hatchback starts at $19,095 – two excellent options for under $20,000.
If you want to add a few creature comforts to your 2017 Mazda 3, simply opt for the Touring trim and you'll be sitting pretty with heated front seats, a power driver's seat, leatherette upholstery and dual-zone automatic climate control. You'll also get great safety features like pre-collision braking, blind spot monitoring, and rear cross traffic alert. The 2017 Mazda 3 Touring starts at $21,495 for the sedan and $22,245 for the hatchback. If you're willing to spend an additional $1,500, you can really upgrade your ride with an equipment package that includes a nine-speaker Bose sound system, satellite radio, and a moonroof. If you got the cash to spare, that package is totally worth it for the moonroof alone. How else are you going to feel like you're driving in a convertible down the Sunshine Coast when in reality you're sitting in the carpool lane?
The Touring 2.5 trim is the one that's only available for the 2017 Mazda 3 hatchback and really there aren't many differences between it and the standard Touring trim, aside from the fact that the 2.5 trim gets you a 2.5-liter engine as opposed to the standard 2.0-liter.
If you're really looking to go all out on your 2017 Mazda 3, then jump straight to the top-of-the-line Grand Touring trim. This is the trim that is going to make you feel like you're the mom on a really successful family sitcom – but luckily you won't need a Hollywood salary to pay for it. Starting at $23,145, drive the 2017 Mazda 3 Grand Touring if you like leather seats, sunroofs, and nine-speaker Bose audio systems. You can also just go nuts and add the Premium Equipment package and the i-Activsense Safety Package to be completely sure that you've covered all your luxury bases.
Make a Lesson out of Your 2017 Mazda 3
We all know that kids learn the most important lessons at home, so start the school year off right – teach your children that moms deserve a little treat now and then too. Make your treat the 2017 Mazda 3.