Mazda's in Wonderland: What Gives Mazda SUV Their Dreamlike Charm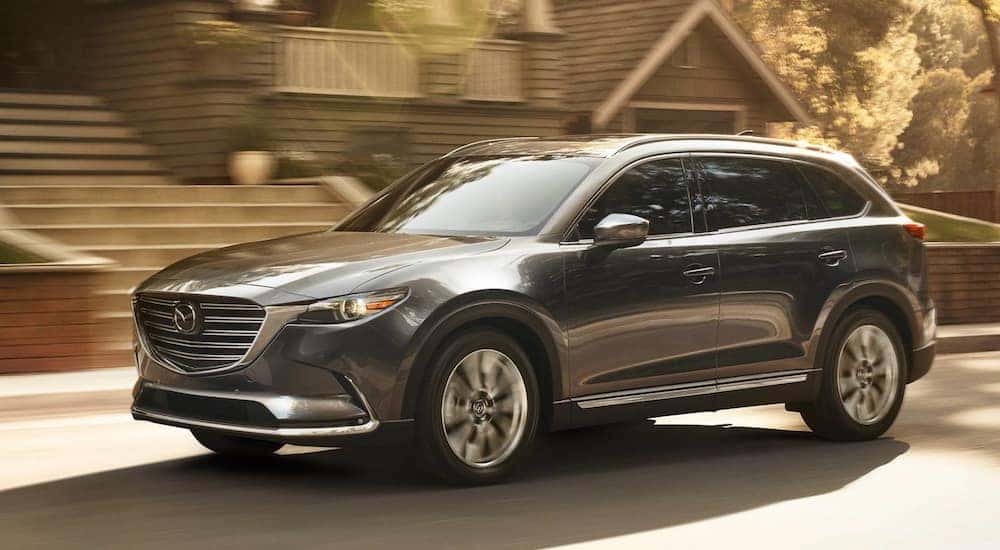 Mazda SUVs are almost magical in their proficiency and charm. Getting into one is like falling down a rabbit hole and waking up in Wonderland, as things you never dreamed possible suddenly become reality. Every Mazda SUV is well-balanced in style, efficiency, and intelligence, but they also all have their own identity as SUVs.
Mazda CX-3
Think of the Mazda CX-3 as the White Rabbit of the group. It is small, lively, sophisticated, and of course never late. This Mazda SUV is one you can always depend on to get you where you need to go and in style. Easy to handle and always efficient, the Mazda CX-3 will take you to places far beyond your imagination.
MSRP: $20,390
Dimensions: 168″ L x 70″ W x 61″ H
Cargo volume: 9.6 to 12.4 ft³, 41.7 to 44.5 ft³ with seat area
Seating: 5
MPG: 29 city / 34 highway
Horsepower: 148 hp
Payload: 1,031 to 1,038 pounds
Mazda CX-5
The Mazda CX-5 is sort of like the Mad Hatter or Cheshire Cat because it is refreshingly spontaneous, captivatingly charming, deceptive genius, and while you may not know what expect to from it, you know it's bound to be amazing. The Mazda CX-5 is the middle ground of the Mazda SUV trio, and it will always find a way to make your life more meaningful.
MSRP: $24,150
Dimensions: 179″ L x 73″ W x 65″ H
Cargo volume: 30.9 ft³, 59.6 ft³ with seat area
Seating:5
MPG: 25 city / 31 highway
Horsepower: 187 hp
Towing: 2,000 pounds
Mazda CX-9
The Mazda CX-9 is the Queen of Hearts in the Wonderland that is Mazda. Grandiose, authoritative, and brimming with elegance fit for royalty, this model is the three rows of carefully cultured perfection. If commanding the road in style is your goal, then the clear solution is the Mazda CX-5.
MSRP: $32,280
Dimensions: 199″ L x 78″ W x 69″ H
Cargo volume: 14.4 ft³, 71.2 ft³ with seat area
Seating:7
MPG: 22 city / 28 highway
Horsepower: 227 hp
Towing: 3,500 pounds
What Makes A Mazda SUV Magical?
Magic is usually something being normal comprehension. A piece of art that makes you cry or a random act of kindness that warms your heart can both be considered magical. But, what is it that makes Mazda SUVs so brilliantly unfathomable in their charm? The simple answer to this is passion.
Design
At Mazda and Mazda dealerships we believe that engineering with passion creates satisfaction. This is why each and every Mazda SUV is made with elation, thoughtfulness, and hope. Unity and depth are what Mazda will always stay true to. Craftsmanship is not just an extra feature to Mazda; it is the entirety of who they are. Being in the presence of a Mazda should have the same effect as being in the presence of a masterpiece.
Mazda practices KODO, or the soul of motion, when designing their vehicles. Every Mazda must have a soul that appealing to senses on an emotional level. See the shining appearance that excites your heart, hear the smooth purring of the parts that calms it down, and run your hand over the bold exterior and soft interior as your mind is transferred to another world altogether; this is what Mazda believes in.
Innovation
Innovation at Mazda is all about making driver and vehicle come together as one. Harmony and insight are what Mazda believes will allow drivers to get the most out of their car or SUV. In order to make this connection stronger, Mazda has worked tirelessly to produce the most innovative technology possible.
SKYACTIV is a technology series developed by Mazda. The technology was made to allow every system of a Mazda vehicle to work together in a way that allows for it to operate at peak efficiency. With a core belief that drivers should never have to sacrifice performance for fuel efficiency, so they invented technology that would enhance both. This system is environmentally-driven and helps keep our beautiful plant all the more beautiful as we explore every inch of it. Cleaner, lighter, stronger, and more responsive, SKYACTIV technology is one giant leap for innovation.
I-ACTIVSENSE is another Mazda creation that allows drivers to perform with more confidence by introducing advanced safety features. Using milliwave radars and cameras, drivers will always be aware of anything that is happening in the surrounding area. This is another example of Mazda innovation as well as their goal to great oneness between driver and automotive.
I-Activ AWD, all-wheel drive, is available for every modern Mazda SUVs and has helped drivers handle terrain that may be trickier then they expected. No matter what condition you find yourself in, the intelligence system will easily adjust and perform responsively. This is why a Mazda SUV has the dreamlike potential to take you anywhere and connects you not just with your automotive, but the world around you.
Spirit
Not many automotive manufacturers think about how their vehicles feel, or even how they make drivers feel. They all just want the best sheet of metal that can get you from A to B in the fastest way possible, and attempt to tell you about their list of luxury items. In fairness, the automotive world is a business, but many seem to forget that it is also a culture.
Building an vehicle with your own two hands is almost a spiritual experience as the passion and emotions move you to create and improve. It takes steady will, a strong body, and a solid mind to make something as intricate as an automotive. It is almost as if during the creation, man and machine become one. Mazda is one of the few automotive authorities that still treasure this notion, and that is why they place such importance on the spirit of automotive craftsmanship as an art and not something to profit from.
The spirit of Mazda can be best described as a phoenix. Powerful flames of passion encircle every inch of it, and if those flames shall ever die out, they will soon be reborn. The Phoenix is all about strength, healing, and rebirth, and that is what Mazda does every day. Creativity never dies at Mazda; it is only renewed with fresh flames.
Where the Magic Happens
At DePaula Mazda magic is happening every day. Not only is our selection stunning, but so is our service. We provide drivers with a customized experience that is suited to their needs. Every vehicle is different, and so is every individual, so we like to be sure we personalize your buying experience so that you can get the most out of it. Unlike the unhelpful pranksters in Wonderland, we believe games and riddles have no place in a dealership, so we offer a 100% transparency with our service. What you see is what you will get. So next time you are looking to find something that will truly inspire you to reach beyond your limits and experience the world in a way you never thought possible, then stop by DePaula Mazda where the magic is always waiting for you.