Mazda Has It All – Safety, Innovation & Design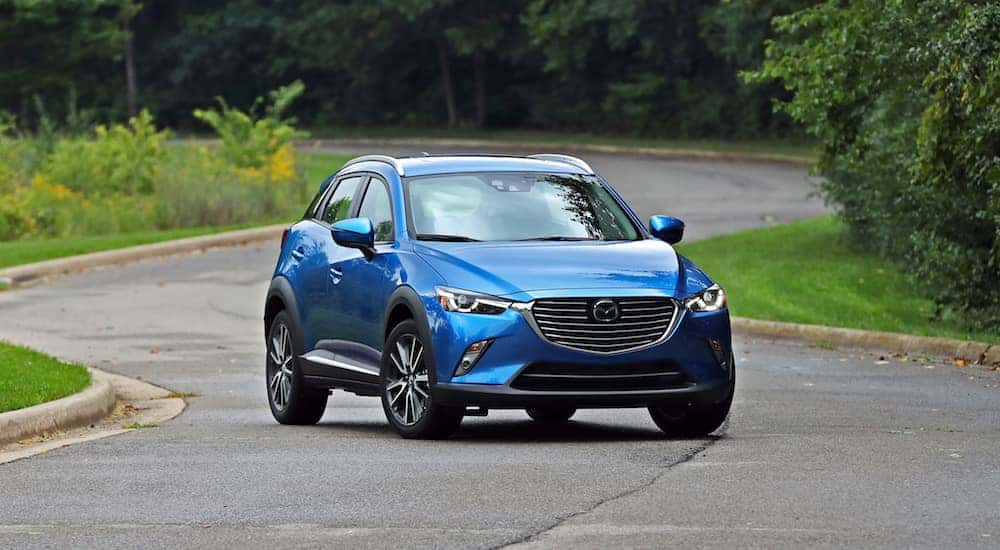 Buying a new car is a big commitment, whether it's brand new off the assembly line or just new to you. You want to make sure that you're getting a car from a brand you can trust—a brand that cares about the features that are the most important to you and your family.
The average American drives 37 miles a day and spends more than 34 hours a year just stuck in traffic. That's a lot of time to spend in the car, so we at Mazda want to make that time as comfortable and enjoyable as possible.
If you're shopping for a new car, consider visiting your local Mazda dealership to test drive one of our sleek, innovative Mazda cars or SUVs. When you choose a Mazda vehicle, you're choosing the motor vehicle company thatU.S. News and World Report called 2017's Best Car Brand. Design, innovation, and safety are  Mazda's top priorities because we know that those are the features that matter to you. We focus on the details our customers love, and that sets us apart from the competition. Once you try out a Mazda at your local Mazda dealership, you won't want to try anything else. Here at Mazda, the details make all the difference.
Design
Mazda prides itself on its commitment to a sleek, comfortable design. At Mazda, when we're designing a new vehicle, we want the owner to feel inspired to drive and be as comfortable as they are at home behind the wheel. To foster this emotional connection between car and driver, we start by modeling with molding clay to create the form and feel of the new vehicle. We use more clay than any other brand. It is this tactile connection between the designer and the vehicle that we believe imbues the design with the passion and emotion we hope to always inspire in the driver.
At Mazda, we believe that details make all the difference to the driver. That's why our color designer and master painter work together to create stylish colors that you'll love—and ones that will remain in fashion through the years you'll drive the vehicle. Then, our expert fabricator creates a scale-model of the vehicle, hand-stitching the premium leather of the interior. At any point in the design procedure, revisions can be made. Making gradual improvements and remaining open to change are important because Mazda believes in a collaborative design process to make sure you're getting the best vehicle possible.
Innovation
We pride ourselves in bringing you the most innovative driving technologies to make your driving experience intuitive and comfortable. That's why Mazda uses SKYACTIV® technologies—to create a vehicle that is both powerful and fuel-efficient. Mazda takes advantage of every part of the design to achieve this goal, from the engines that waste less energy from the fuel to the lightweight ultra-high tensile-strength steel body.
Mazda's SKYACTIV-G 2.0L and 2.5L gasoline engines can get more out of gasoline because of the engines' higher compression rates. These engines can compress a mixture of air and fuel into the cylinders at rates faster than other engines, thus getting more energy from every bit of fuel. That's why Mazda has been rated the most fuel-efficient auto manufacturer in the nation by the United States Environmental Protection Agency.
Mazda also uses the i-ELOOP system on selected models to help conserve energy and improve efficiency. When braking, the system harnesses that kinetic energy that would be wasted otherwise. It then converts the energy into electricity to power headlights, run the audio system, or maintain climate control.
The six-speed automatic or manual transmissions shift smoothly and quickly for a more natural acceleration. In addition to the smooth transition of gears, Mazda uses SKYACTIV Vehicle Dynamics with G-Vectoring Control to achieve a seamless driving experience. This technology works with the driver while turning, shifting the vehicle's weight and adjusting the power delivery to create a smoother, easier turn.
Safety
Mazda is dedicated to keeping you and your family safe. Our commitment to safety has earned all five of our models Top Safety Picks Plus by the Insurance Institute for Highway Safety. In fact, the Mazda CX-5 was given the organization's highest possible safety rating when equipped with Smart City Brake Support and the Adaptive Front-Lighting System.
To give the driver a full picture of what is happening on the road around them, Mazda created i-ACTIVESENSE®, which uses radar and cameras to alert you to potential hazards on the road and even avoid collisions. The Active Safety Technology uses audio alerts to warn the driver of potential dangers.
Pre-Collision Safety Technology helps reduce the severity of an accident if one is unavoidable, while the Passive Safety Technology uses the vehicle's design to help protect the driver and all passengers. The Passive Safety Technology includes the SKYACTIV Body with ultra-high tensile strength steel, seat belt with pretensioner and load limiter, anti-intrusion brake pedal, and Supplemental Restraint System Airbags.
Mazda has a variety of sedans and hatchbacks, SUVs and crossovers, and sports cars to meet the needs of every driver. Whether you're commuting to the office, running errands with your family, or zooming down the highway, Mazda has a car that's right for you.
With Mazda's commitment to comfort and utility, you'll be happy to get in the car and drive. Mazda's superior design ensures that you'll be comfortable driving one of our models. Innovative technologies mean that your driving experience will be as efficient and easy as possible. With a Mazda, you won't have to sacrifice performance for fuel efficiency; you'll get both with our powerful yet environmentally friendly engines. Finally, our highly rated safety systems will keep you and your family safe, from the moment you buckle up to the moment you reach your destination.
If you're near Albany, NY, come to your DePaula Mazda dealership today to test drive one of our fabulous new or certified pre-owned vehicles to see for yourself how smooth, comfortable, and efficient Mazda is. Although you could visit any Mazda dealership, only DePaula Mazda will give you a quality vehicle at a low price with the help of our knowledgeable and friendly staff. Experience the details that set Mazda apart by test driving one today.