Move over Minivans: Make Room for the Mazda CX-9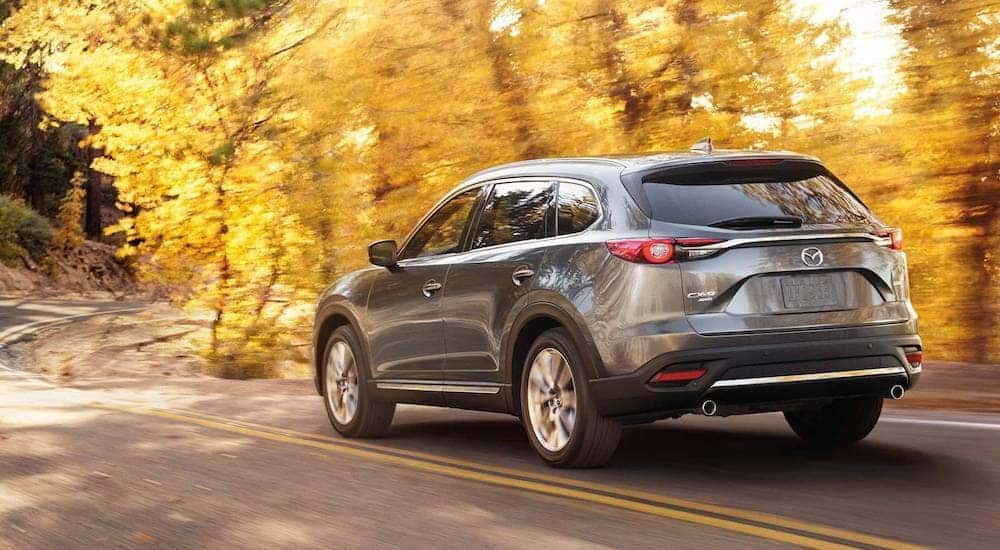 For a very long time, it was pretty much a guarantee that once you had a few kids, you were going to have to eventually ditch your regular ride for a minivan. After all, how could you possibly fit a family five plus a friend or two (or a dog or two) in a car or SUV built for only five passengers? It just wasn't going to work, which made minivans the default option and lead the vehicles becoming affectionately known as "mom-mobiles."
Fortunately, the automobile industry realized there was a gap in the market for those who wanted to continue to drive an SUV but didn't want to have to leave one of their crew at home due to lack of space. It is now indeed possible to find a variety of SUVs that can fit up to seven or eight passengers, although very few of those SUVs compare to the Mazda CX-9. If you're in the market for an SUV that can easily accommodate your whole crew with style and comfort, head down to the closest Mazda dealership near you and check out the 2018 Mazda CX-9 and put those fears of having to drive to work in a minivan to rest.
The Mazda CX-9 Takes Safety Seriously
Right off the bat, let's go ahead and cover safety – because after all if you're carting around six other people, you want to be sure that you are doing so in a supremely safe ride, especially if those passengers happen to be your children. One of the features that make the 2018 Mazda CX-9 so appealing to families is that it offers exceptionally impressive safety scores. In fact, the Insurance Institute for Highway Safety was so impressed with the 2018 Mazda CX-9 that it named it one of its 2018 Top Safety Picks. Likewise, the National Highway Traffic and Safety Administration gave the 2018 Mazda CX-9 an overall five-star rating, which means that no matter if you trust the IIHS or the NHTSA more, you can certainly rely on the fact that both institutions stand confidently behind this SUV.
Of course, ratings are one thing, but ratings alone won't help keep you safe on the road. The 2018 Mazda CX-9 comes standard with several advanced safety features that will though, including rear cross traffic alert, a rearview backup camera, blind spot monitoring and low-speed automatic braking. There are additional packages that you can add to enhance your CX-9's safety further.
If you're still debating between a minivan and a Mazda CX-9, be sure to check out the safety ratings and advanced safety features of any vehicle you may consider purchasing – you might be surprised to learn that despite being family-friendly vehicles, many minivans are lacking when it comes to safety.
The Mazda CX-9: Sweet Interior & Stylish Trims
With seating for up to seven passengers, you might be worried that the 2018 Mazda CX-9 is going to feel like a sardine can once it's loaded down with passengers and belongings. However, as U.S. News & World Report describes:
All three rows are roomy. The first row is especially spacious, with generous shoulder room between the driver and front passenger. Unlike most 3-row SUVs, the CX-9 can comfortably accommodate adults in the third row, though getting into and out of it can be difficult.
Additionally, the 2018 Mazda CX-9 is offered in four trims: the Sport, Touring, Grand Touring, and Signature. The base model Sport has a starting MSRP of $32,130 and offers a wealth of amenities, especially for a base-level vehicle. Opt for the 2018 Mazda CX-9 Sport and you'll be cruising with a leather-wrapped steering wheel, tri-zone automatic climate control, a push-button start, two USB ports, a seven-inch display screen, Bluetooth connectivity, automatic LED headlights and the aforementioned advanced safety features. For just about $1,300, you can choose to add the Power Driver's Seat and i-Activsense package to your CX-9, which will equip your SUV with additional advanced safety features including lane departure warning, adaptive cruise control, forward collision warning, automatic emergency braking, active lane keep assist, automatic headlights and rain-sensing wipers as well as a power-adjustable driver's seat and heated front seats. Depending on your budget, the Power Driver's Seat and i-Activsense package is absolutely worth considering adding to your 2018 Mazda CX-9 Sport.
Of course, if you don't want to add in a package, you could always just upgrade to the 2018 Mazda CX-9 Touring trim. With a starting MSRP of $34,960, the Touring trim includes all of the features from the Sport as well as leather upholstery, a power liftgate, and an eight-inch touchscreen display. All of the advanced safety options from the i-Activsense package come standard on the Touring, but if you want to add a little pizazz to your CX-9 Touring, you may want to consider the Touring Premium package. Choose that package for almost $2,000 and you'll make your car quite a bit more luxurious thanks to the included moonroof, navigation, 12-speaker Bose sound system, rear parking sensors and satellite radio.
Moving up the trims is the 2018 Mazda CX-9 Grand Touring trim, which builds off of the Touring trim adding many of the features from the Touring Premium package, such as the moonroof and navigation, and also throws in up-market features including a traffic sign recognition system and heated rear seats. Rounding out the trims and offering ultra-luxury is the 2018 Mazda CX-9 in Signature trim. With a starting price of $44,315, the Signature is a no-holds-barred SUV complete with Nappa leather upholstery and real wood trim throughout the cabin, not to mention all of the features found throughout the other trims. If you're looking for a truly stylish and luxurious ride, look no further than the 2018 Mazda CX-9 in Signature trim.
Visit DePaula Mazda to Find Your Mazda CX-9 Today
No matter if you decide to go for the Signature or the Sport trim, our team at DePaula Mazda is eager to show you why a Mazda CX-9 is the perfect alternative to either a massive SUV like the Chevy Suburban or a "mom-mobile" minivan. Come visit us today at 799 Central Avenue in Albany today and see for yourself why the Mazda CX-9 needs to be your next family vehicle.