Find the Joy of Driving Again with Mazda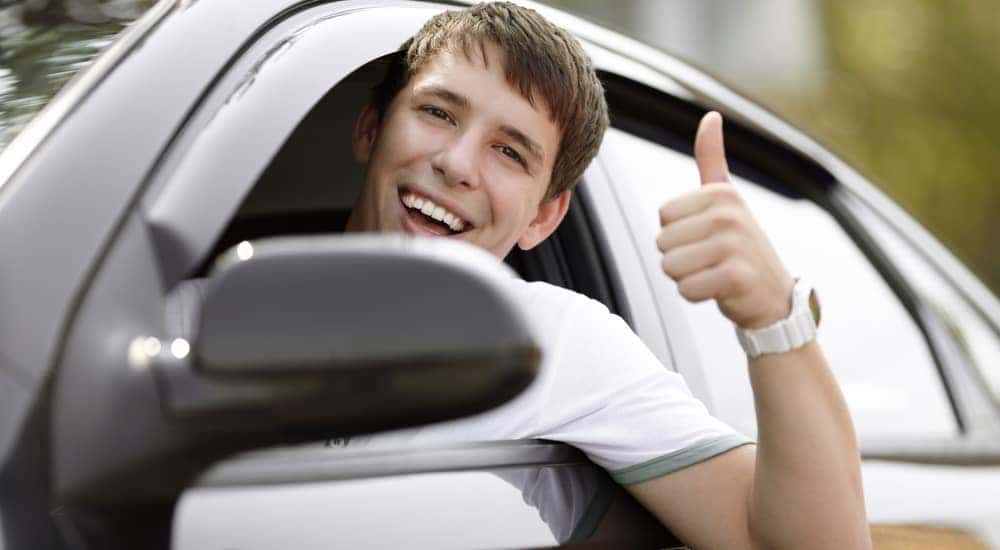 Let's say it: by visiting us here at depaulamazda.com you've taken a smart first step towards ensuring your satisfaction with your next vehicle purchase. Regardless of whether you're looking to explore Mazda cars, crossovers or performance vehicles, there are countless reasons why Mazda are so deserving of exploration.
Consider for a moment that U.S. News & World Report named Mazda as the 'Best Car Brand' of 2017. Within such a competitive marketplace, faced with so much competition from other enduring automakers, being named 'Best' makes for a powerful statement. Not to be outdone, Mazda earns equally powerful accolades from the Environmental Protection Agency. Previously named by the EPA as the 'Most Fuel-Efficient AutoMaker,' Mazda's offerings show a clear focus on both quality and sustainability. This alone would provide sufficient argument in favor of considering Mazda, but we at DePaula invite you to dig deeper with us and explore what makes Mazda so satisfying.
The Joy of Driving
To quote Mazda themselves 'Driving Matters'. This fuels the automaker's mindset towards both design and engineering, aspiring to remind everyone of us of the genuine joy to be found in driving. Consider for a moment, the amount of time that you spend behind the wheel. For the average American driver, this equates to approximately 101 minutes per day, or 37,812 hours when extrapolated across a lifetime. Professional drivers excluded, this means that each of us spends around four years of our life behind the wheel of a vehicle.
With that in mind, shouldn't a vehicle be designed to reinforce the joy of driving? Shouldn't its interior be designed for comfort, and its controls designed to be user-friendly? Shouldn't it include a number of features meant to protect our safety and that of our passengers? And shouldn't it be aesthetically pleasing, beckoning us back behind the wheel for the next round of windshield-time? Of course, it should, and with all of those things in mind, Mazda stands out among its competitors, and enduring fusion of both form and function.
KODO
Translated to 'Soul of Motion,' KODO speaks to the design philosophy upon which all Mazda offerings are built. Evocative of such elemental forces as wind and water, KODO emulates natural motion. The wind in your hair. Running water on your skin. Such sensations create a primal response and serve as Mazda's inspiration.
The result is a lineup consisting of models which possess their distinct personality and appeal while fitting into a unifying organic theme. And by allowing all segments, be they sedan, hatchback, crossover, SUV or sports car to be united within a core aesthetic, Mazda's lineup is arguably one of the most cohesive ever seen.
JINBA BATTAI
Translated to "Horse and Rider as One," JINBA BATTAI is an engineering philosophy designed to 'create perfect harmony between car and driver.' Just as a well-trained horse has an intuitive relationship with its rider, Mazda aims to craft vehicles that are both predictive and responsive to the needs and demands of the driver.
The primary means by which this is achieved is through Skyactiv-Vehicle Dynamics with G-Vectoring Control. This allows a Mazda to offer a smoother driver, adjusting weight distribution and power as needed while cornering, or during any part of your drive. The result is a vehicle that operates as an instinctive extension of the driver.
Sedans & Hatchbacks
The Mazda3 (priced to start at $18,095 MSRP) sets the tone. Seating five and made available in three trim levels (Sport, Touring, and Grand Touring) the Mazda3 introduces the platform that recurs throughout the remainder of Mazda offerings. As a four-door sedan, it conveys just how innovatively-styled a practical and affordable vehicle can be. And whether you prefer a fastback inspired roofline or the accessibility of a hatchback (starting around $19,345 MSRP) the Mazda3 has you covered.
And for those interested in a full-size sedan, the Mazda6 delivers on every expectation. Offered in the same trim levels, it embraces the same attributes and philosophies of the Mazda3 (including affordability). Priced to start at $22,295 (Sport) $25,245 (Touring) and $30,695 MSRP (Grand Touring) it serves as a perfect topper to Mazda's well-balanced lineup. A confident performer, the Mazda 6 is rated for 184 hp, 185 lb-ft of torque, and up to 35 highway mpg.
Regardless of which better suits your lifestyle best, there truly is a Mazda for everyone – including those who are interested in…
Crossovers & SUVs
For lifestyles that demand more regarding versatility and cargo options, Mazda's crossover style offerings continue to show the same refinement of design and engineering as found in the models above.
Selection begins with the accessibly-priced and diminutive Mazda CX-3 (starting around $20,110 MSRP). Described by Car and Driver as 'fun and feisty,' the CX-3 is certainly that, while offering the option of all-wheel drive versatility that empowers it to stand with such confidence when measures against other compact crossovers.
Perhaps it's a testament to Mazda, that the CX-3's biggest competition comes from Mazda themselves in the form of the enduringly popular CX-5. Starting around $24,150 MSRP the CX-5 carries a larger footprint, creating more cargo space. And of course, this trend follows through the CX-9 which is priced to start around $32,130 ensuring that there's a Mazda for everyone.
Is Mazda Right For You?
Regardless of which model best fits the unique demands of your lifestyle, there is a Mazda that is worthy of your consideration. With such a well-awarded lineup, we at DePaula Mazda take great pride in our ability to connect our valued customers with the Mazda that is perfect for them. Considering Mazda's approach, compelling design and innovative use of technology, is it any surprise that so many Mazda owners are satisfied with their decision?
Based on our experience, we don't think it's any surprise at all. Visit us today, and we're certain you'll feel the same.