2019 Mazda CX-5 Receives Invigorating Updates
Experience the 2019 CX-5
A vehicle should do more for your life than get you from Point A to Point B. Whether you're searching for a new 2019 vehicle that will make your daily commute something you enjoy, or a vehicle that will withstand road trips, the updated CX-5 will surpass expectations no matter the journey.
Looking back to 2012 when the CX-5 debuted in the American market, it helped to introduce consumers to Mazda's KODO-Soul of Motion design and the SKYACTIV Technology. From there, the model has seen continuous design changes and improvements. Most notably being the redesign in 2017 which opened the doors for 2018 and now the 2019 model.
As we prepare for 2019, Mazda has taken the necessary steps to continue propelling the CX-5 ahead of the competition.
What's New for the CX-5
Modern Interior
For those familiar with the model up to this point, they are already accustomed to the premium features like leather-trimmed seats, leather-wrapped steering wheel, heated seats — front and back! The 2019 model release will look to enhance the feeling of the interior even further, while still keeping these beloved features.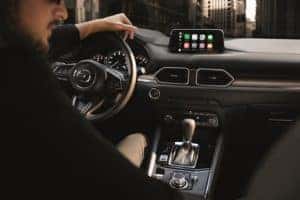 The 2019 CX-5 Signature features Caturra Brown Nappa leather seats, genuine layered wood trim, and satin chrome accents to round out the mature sensibilities of the latest model. Ambient interior LED lighting, black headliner, and frameless rearview mirror will also contribute to the refinement of the interior atmosphere. To make the ride even more comfortable for the driver and front passenger, both seats are now ventilated.
Advanced Technology
Safety and technology have proven to be a top priority for Mazda, and that's no different for 2019. The Signature trim level offers a 360-degree View Monitor with front and rear parking sensors to guide drivers while parking, especially in tight spots.
A 7-inch, full-color touchscreen display holds compatibilities with Apple CarPlay™ and Android Auto™, which will allow the driver to safely access smartphone apps while minimizing distractions. The infotainment system can be accessed with a multi-function Commander knob and shortcut buttons, or the driver can choose a voice command function.
Smooth Ride
When the 2019 models arrive, consumers will find their needs are met with two different engine options.
Continuing with its success, the four-cylinder fuel-efficient SKYACTIV-G 2.5 option showcases Mazda's ability to continuously make improvements each model year. This option, Mazda has found, will be best suited for brisk city drivers.
For consumers who seek more of a thrill while driving, the award-winning turbocharged SKYACTIV-G 2.5T will fulfil their needs. It's currently available in the CX-9, Mazda's midsize crossover SUV, and the 2018 Mazda6 sedan. The SKYACTIV-G 2.5T is a technological tour de force which showcases 310 lb-ft of torque from only 2,000 RPM and 250 horsepower on 93-octane fuel.
It has always been important to Mazda that the vehicle, no matter which model, feels like an extension of the driver while creating an enjoyable driving experience. Both engine options and interior updates for the 2019 CX-5 exemplify this ideology. To find the vehicle that matches your lifestyle, head to DePaula Mazda today.