Best Tires for Winter: All-Season Tires vs. Snow Tires
Different Types of Tires Available
While shopping for tires for your vehicle, you may feel bombarded with terms like summer tires, all-season tires, snow tires, and winter tires. Each type of tire is designed to maximize the vehicle's performance under specific road conditions.
Snow tires, all-season tires, and even summer tires, serve different purposes and produce different results.
Snow Tires
They're referred to as both snow tires and winter tires. Drivers can expect peak performance in conditions from sleet, slush, and heavy snow, to ice, and even roads that are cold and dry.
A primary difference between snow tires and all-season tires is the enhanced braking performance provided by winter tires during snowy and icy weather conditions. The rubber tread is specifically formulated to stay flexible during extreme conditions — like freezing or below freezing temperatures.
Not sure if you currently have winter tires on your Mazda?
Look for the Severe Snow Symbol (a snowflake inside a mountain) on the tire's sidewall. This symbol specifies that the tire adheres to the snow traction standard administered by the Rubber Manufacturer Association (RMA).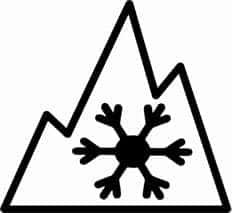 Why You Shouldn't Use Winter Tires in the Summer
Built for speed and agility, summer tires are ideal for high-performance vehicles, like the Mazda Miata, during the warmer months.
Precision on the road is attributed to the specialized tread patterns. Each pattern has large grooves for water evacuation, which puts more rubber in contact with the road. These grooves, however, are not meant for handling the weather conditions associated with the winter season.
Winter tires are meant for just that — the elements drivers face during the winter months. The tread on snow tires will wear out substantially faster if they are frequently driven on bare pavement and will lead to needing replacements sooner than anticipated.
Snow tires' tread design can also lead to diminished vehicle performance outside of the winter season. Using winter tires during the warmer months can also hinder the vehicle's performance and use more gas.
All-Season Tires
These tires are specifically designed to offer traction for a variety of weather conditions and to last throughout the year. It's true that all-season tires can provide substantial traction in the winter, but they might not be the best option when it comes to extreme weather.
All-season tires offer a balance of capabilities including ride comfort, reduced noise, handling, and tread life throughout moderate climates and changing seasons.
The tread compound and pattern of all-season tires have been designed to handle a multitude of weather and pavement conditions. From snowy conditions, wet, or dry surfaces, all-season tires will conform to the road while maintaining performance.
However, the tires' rubber will lose its flexibility during extremely cold temperatures. Because of this design, winter tires can surpass them when it comes to traction support during periods of severe snow and ice.
Equip Your Mazda with the Best Tires
Deciding which tire is the best option for your Mazda can be overwhelming, but DePaula Mazda will have an option that will keep your vehicle on the road, and your family safe, throughout the season.
If you aren't sure if your vehicle needs new tires, if all-season tires are the best option for you, or if you need snow tires mounted, our service technicians will be able to handle it all and set your mind at ease.