Mazda Dealership Near You: DePaula Mazda in Albany, NY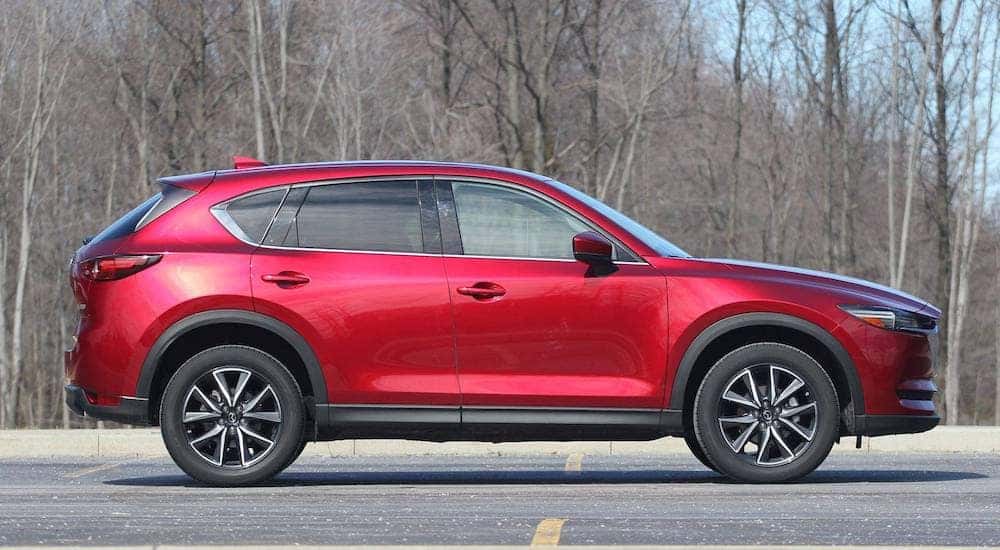 We don't mean to brag, but when it comes to Mazda Dealerships in the Northeast region, we think we're the best dealership around. With our high class and expansive inventory, excellent customer service, and our diverse departments to handle any of your vehicle needs, we're a Mazda Dealership that has stepped up their game.
You may ask, "Why go to a Mazda Dealership near me?" Because at DePaula Mazda, with our comprehensive and professional service, we're a dealership you just won't want to leave. Take a look at the reasons why we offer the best services in town, and we're confident you won't be able to wait to come to our lot for a look around.
World Class Inventory
When it comes to inventory, we aim to have the best and biggest inventory you will find, anywhere. With hundreds of vehicles to choose from – from the fast and fun Mazda Miata to the family-friendly Mazda CX-5, we've got the options to fit any style and budget.
If you have your heart set on a particular model, then come into our dealership to take a look today. We're open Monday through Saturday and hope to show you around or take you out for a spin at our Mazda Dealership. And if you're just looking to browse, and haven't decided on a single model yet, then we're happy to show you a variety of options, and get to know you and your lifestyle so you leave with the best vehicle for you.
In addition, whether you're looking for a used, a new vehicle, an SUV, sedan, or luxury coupe, we have the inventory to meet every one of your needs. We pride ourselves on the hundreds of models in our inventory, and we're confident we'll have exactly what you're looking for.
Great Prices and Deals
When you're looking at Mazda Dealerships near you it's no secret that price is going to be a big factor. At DePaula Mazda we know that price is important to our customers, which is why we offer many specials and discounts to make the buying process that much smoother and stress-free for any potential buyer.
We have a number of lease specials, new vehicle specials, and other great Mazda offers that can work with any budget. Interested in taking a look at some of our prices and deals? Check out our easy-to-use website where all of our specials are conveniently listed, or give us a call today and we'll be more than happy to help you.
In addition, almost all of our vehicles are listed below the MSRP. At DePaula Mazda, we always place the customer first and foremost, alleviating some of the pressure and stress from making a large purchase and decision is our priority. We want to make sure you leave satisfied knowing you've received the best service and a great deal.
Excellent Service Department
If you're looking to service your Mazda vehicle, then you've come to the right place. At DePaula Mazda we have an extensive service department designed to alleviate waiting times and get you out on the road as soon as possible. On-site we have over 15 Mazda Certified Trained technicians, over 15 service bays to increase efficiency, 16 body shop bays with two paint booths, all designed to make your experience fast and stress-free.
When you come in for service at our Service Department we want you to be comfortable. At our Mazda Dealership near you we have complimentary Wi-Fi, coffee, and snacks, and if your vehicle does happen to need a few days to fix, we also offer a complimentary loaner car or free transportation services.
Many of our Mazda owners and customers also like to customize their vehicle. At DePaula Mazda we offer many accessories online and in our parts department store, where you choose different parts to upgrade your current vehicle. We can fit these upgrades to your vehicle right at our Service Department and are happy to offer you any advice or suggestions you might need. We operate Monday through Saturday and are always happy to help.
Knowledgeable Financial Team
Our fianace department has many services we can offer you. Our expert staff are finance professionals and they can help you with all aspects of financing your new or used vehicle as well as offering advice and pricing on extended factory warranties.
If you are looking to finance through us, we have a number of excellent options. Our professional financial experts can reach out to our national lenders and get back to you the same day with your lending options. Simply fill out our credit application online or give one of our Finance team members a call today.
We also offer some other convenient services if you're looking to trade in a vehicle or get cash back for your used car. We have a Kelly Blue Book Instant Cash Offer, which means you can get instant cash back on your vehicle based on the Kelly Blue Book Value. Or if you're looking to trade-in your vehicle, you can put that cash value towards a new vehicle with us. It's up to you! Finally, we also have a handy payment calculator online so you can calculate your monthly loan payment based on the vehicle price and your down payment. We make sure we have all the services you need to get your research and budgeting processes done all in one place.
DePaula Mazda
So, why go to a Mazda Dealership near you? Because at DePaula Mazda the customer is our priority, and from our expansive inventory to our excellent staff and departments, you'll always feel like you've received the best service and recommendations. We pride ourselves on our great selection, great location, and knowledge of the Mazda brand. So what are you waiting for? Come in for a visit or give us a call today, we'll be happy to help you!