Why the 2017 Mazda CX-5 Is the Best Crossover SUV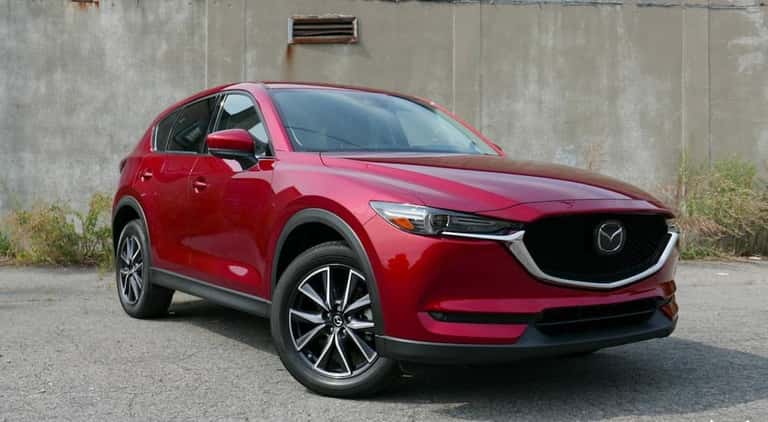 Nowadays, when you hear a car brand touting that their crop of SUVs are the "best in the class" or "best in the industry," it comes off as a bit hyperbolas. However, Mazda literally has the ability to back up that sentiment thanks to their recent recognition from some notable publications.
The annual Digital Trends Car Awards recognize the top new automobiles introduced each year, and the 2017 Mazda CX-5 was atop the list of winners. Editors judged award entries on technological advancement as well as overall design for consumer experience. According to Digital Trends, "While the [Bentley] Bentayga and [Jaguar] F-Pace met expectations, the CX-5 exceeded them, offering more fun, style, and character than one would expect at its price point."
Below, we've highlighted some of the major reasons why the 2017 Mazda CX-5 earned this notable distinction and honor. That way, when you're searching the internet for a "Mazda dealership near me," you'll already know what specific model you want to pursue…
Performance
Drivers generally anticipate power from a new SUV, and the 2017 Mazda CX-5 certainly delivers in that regard. Thanks to the powerful unit and accompanying mechanical inclusions, drivers can expect to trek through any adverse road conditions. The SKYACTIV-G 2.5-liter 16-valve four-cylinder engine manages to deliver an impressive 187 horsepower and 185 pound-feet of torque, meaning you'll be more than capable of overcoming any of your fellow drivers on the highway. These power specs also end up having a positive influence on other performance numbers, including the 2000-pound towing capacity.
Meanwhile, thanks to inclusions like the SKYACTIV-Drive six-speed automatic transmission and variable valve timing technologies, drivers can anticipate an impressive 31-mile-per-gallon highway fuel efficiency (when equipped with the front-wheel-drive system). While you may have to stretch your budget a bit for the 2017 Mazda CX-5, you can expect to save some extra money at the gas pump.
Safety
Of course, to accommodate all of that power, engineers also included a number of safety functions that should help drivers remain in control at all times. These various inclusions should also play a significant role in helping to prevent accidents from occurring altogether. Inclusions like the Smart Brake Support provides drivers with optimal stoppage power, while the Smart City Brake Support will provide that extra bit of traction or braking power when needed. The Traffic Sign Recognition system is another notable inclusion, as it can at least provide the driver with a dependable co-pilot during those distracting commutes.
Meanwhile, if you're traveling on the highway, you'll appreciate the Mazda Radar Cruise Control, which will allow drivers to take a brief break from operating the vehicle. The unit is capable of maintaining the speed of the SUV, and it can even accelerate or decelerate based on the flow of traffic. The Advanced Blind Spot Monitoring system provides the driver with an extra set of eyes, as does the Rear Cross Traffic Alert. The Lane-Keep Assist system assures that the driver is remaining on their intended path, while the Lane Departure Warning will notify you when it's safe to switch over. Even the Adaptive Front-Lighting system and High Beam Control should help with safety, as these inclusions will lead to optimal visibility on those dark roads.
Interior
Of course, Mazda always touts their unmatched driving experience, and a big reason for this sentiment can be attributed to the array of interior features. For starters, the brand promises one of the most comfortable commutes in the entire class. Thanks to the inclusion of features like the heated rear seats, you can be assured that all of your occupants are remaining comfy throughout any long journey. Meanwhile, engineers included technological amenities like USB charging ports, allowing you to keep your favorite gadget juiced at all times.
Speaking of gadgets, you may want to stream your favorite music, and the 2017 Mazda CX-5 will make that more than easy thanks to their incredible sound system. This is especially true if you opt for the unmatched Bose Centerpoint 2 Surround Sound System with Autopilot 2, which delivers one of the best listening experiences in the entire class. Meanwhile, engineers also included a number of sound-deadening materials, meaning you'll never be distracted by the howling wind or roaring engine.
Of course, the interior amenities aren't solely focused on comfort and technology. Rather, they also play a significant role in boosting the overall convenience of your ride. Specifically, the 2017 Mazda CX-5 promises an incredible 59.6 cubic feet of cargo space, providing more than enough room to fit any of your luggage or equipment. The addition of the 40/20/40 split fold-down rear seatback makes it incredibly easy to manipulate that interior to fit all of your needs, while the Power Liftgate means you'll never have to fumble with your keys as you're attempting to load all of that luggage and equipment. Ultimately, if you're looking for an SUV that accommodates any of your cross-country treks, you won't be able to do much better than the 2017 Mazda CX-5.
"We're grateful that Mazda CX-5 was recognized by Digital Trends, further demonstrating the quality, craftsmanship and overall upmarket experience that sets it apart—and above—in its crowded, competitive segment," said Tetsu Nakazawa, the CX-5 vehicle line manager of MNAO. "We are proud that our vehicles continue to receive praise for their driver-centric focus and class-above refinement."
At the end of the day, it's hard to deny that the 2017 Mazda CX-5 is one of the top SUVs in the industry. In other words, if you're in the market for a new ride, you really have no excuse to not at least consider this particular nameplate. Trust us, you'll be happy with your decision in the long run.